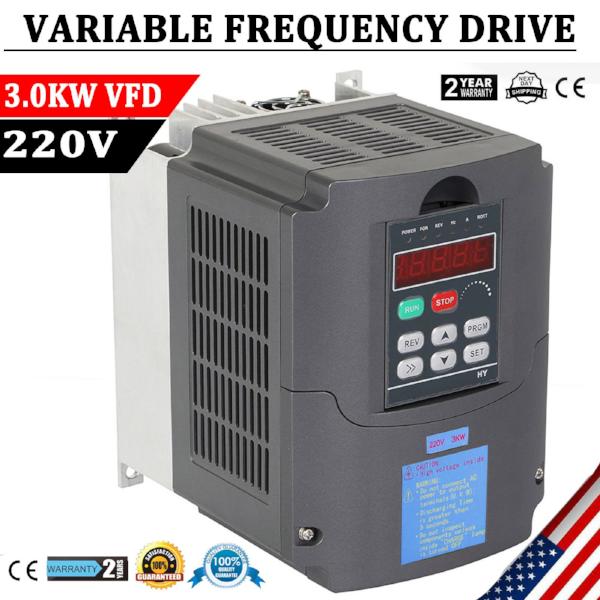 VFD Inverter Variable Frequency Drive 220V 3KW 4HP
Original price
95.000 OMR
-
Original price
95.000 OMR
Variable Frequency Drive - A Very High Performance and All-round Upgrade Current Vector Control VFD Drive. 
Power: 4HP 3KW 220V Input: 1PH AC220V±15% 
Output: 3PH AC0-220V 13A 0-500HZ VFD size:24.8*16*18.3CM/9.7*6.3*7.2 IN (L*W*H) 
Package include: 1xVFD;1x English User Manual book;6 x wiring terminal. 
Item Manufacture: We are the original VFD manufacturer 
Note: The original VFD keyboard can not be removed,you should buy another keyboard and cord for remote control.
Features 

1.High startup torque 150%@0.5Hz. 
2.Excellent speed stability +/-0.5% (SFVC). 
3.Power Dip ride through. 
4.Strong overload capability : 60s for 150% , 3s for 180% overload. 
5.Rich of AI & I/O port, RS485 communication port, well work with Mach3 controller. 
6.All-new sensorless flux vector control(SFVC) algorithm that gives better low-speed stability,enhanced low-frequency loading capacity. 
7.Supports asynchronous induction motor / various encoders such as differential encoder,open-collector encoder,resolver and UVW encoder. 
8.Supports two control modes,sensorless vector control(SVC) and V/F control. 
9.With perfect error protection and short circuit starting protection capability. 

Kindly Note 
This VFD only accept 220Vac input,110V power can convert to 220V,But the precondition is that you should have L1,L2 wire(two hot wires);L1,N wire is not available! Welcome to consult with our CS make best choice for your exact application or any assistance needed.