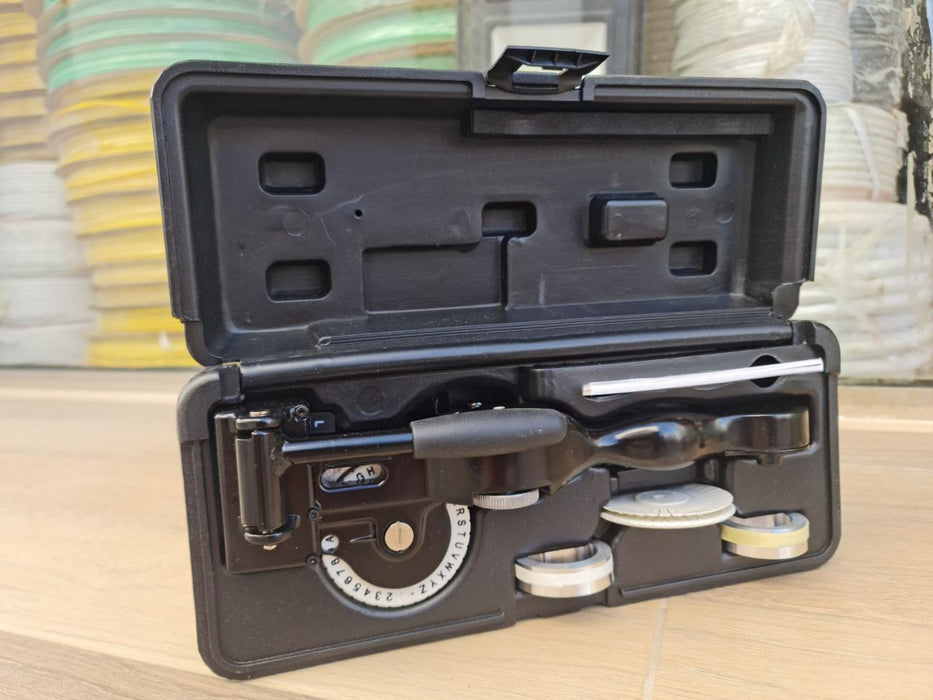 Stainless Steel Metal Tape Embossing Machine Kit DYMO Rhino M1011
Original price
155.000 OMR
-
Original price
155.000 OMR
155.000 OMR
-
155.000 OMR
Current price
155.000 OMR
Description
Create 12 mm stainless steel and aluminum labels.

Create hanging, screw-on or nail-on labels with built-in hole and cable-tie punches.
Accurately set the length of leading and trailing label edge with a built-in measuring gauge.
Cut square or rounded edges effortlessly with an easy-to-use cutting handle.
Print mirror script labels with included reverse-image character wheel.
See more product details.
The industrial-strength Rhino M1011 embosses 12 mm stainless

Steel and aluminum labels - with or without adhesive - that
resist extreme weather, temperature and chemical and UV exposure.
This tough, durable embosser features an easy-to-use label
cutting handle that cuts square or rounded edges, hole and cable
tie punches, a trailing-edge measuring gauge and a rugged
cast-aluminum frame to withstand tough working conditions. With
a deep emboss to ensure high quality character legibility, the
Rhino M1011 is every bit as tough and durable as the labels that
it creates.
Product Details :
| | |
| --- | --- |
| Automation Grade | Automatic |
| Embossing Surface | Sheet Metal |
| Material | Aluminium |
| Weight | 3.03 pounds |
| Dimensions | 11.3 x 3.8 x 4.4 inches |
| Tag Size | 12 x 89 mm |
| Thickness | 0.38 mm |