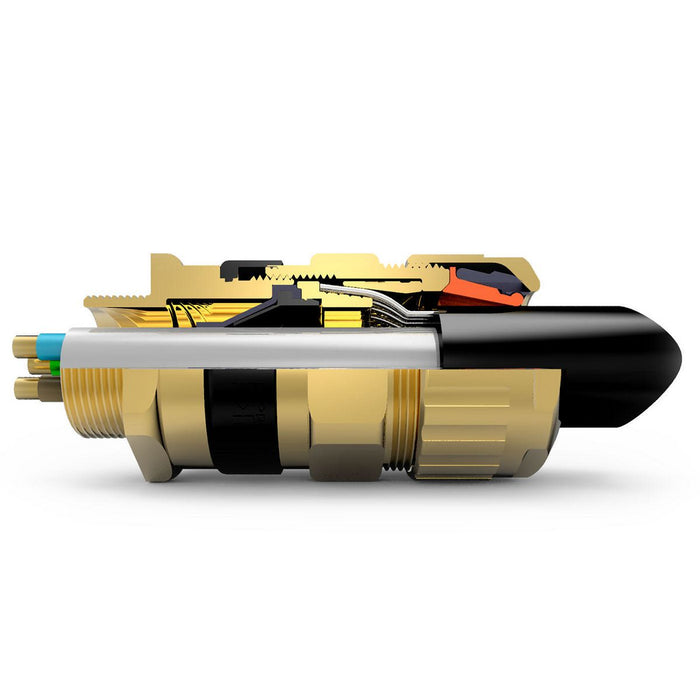 Brass Cable Gland EEXD 50MM 501/453 C RAC - 20MM
Original price
22.500 OMR
-
Original price
22.500 OMR
The 501/453/Universal cable gland provides two independent seals on armoured, elastomer and plastic insulated cables susceptible to damage relating to cold flow. The first is a flameproof diaphragm seal on the inner cable sheath, the second an IP seal on the outer sheath. This cable gland comes with our Reversable Armour Clamp (RAC ring) for use with single wire armour 'W', wire braid 'X', steel tape armour 'Z', elastomer and plastic insulated cables. The cable gland is certified Exdb and Exeb and is suitable for installation in Zone 1 (21) and Zone 2 (22) hazardous areas.
Provides armour clamping using one clamping arrangement for all armour/braid types.
Provides a diaphragm seal on the cables inner sheath which will not damage cable that has 'cold flow' characteristics.
Provides an outer deluge seal to prevent moisture ingress to the cable armour/braid.
Provides a cable retention and low smoke and fume, zero halogen seal onto the cables outer sheath.
Manufactured in Brass (standard), Nickel Plated Brass, 316 Stainless Steel or Aluminium. Brass NPT entries are nickel plated as standard.
Available in sizes Os to F. Sizes G and above are available in the 501/453/RAC design style.
Ordering Format [ Gland Type / Size / Thread / Material / Options ] Example: 501/453/UNIV / C / M32 / Brass. Example with Alternative Clamping Ring option: 501/453/UNIV / C / M32 / Brass / AR
Delivery : Ready Stock - Subject to unsold 
Location : Muscat,Sultanate of Oman 
Different Sizes are availabe on request ie. 20MM,25MM,40MM,50MM,63MM