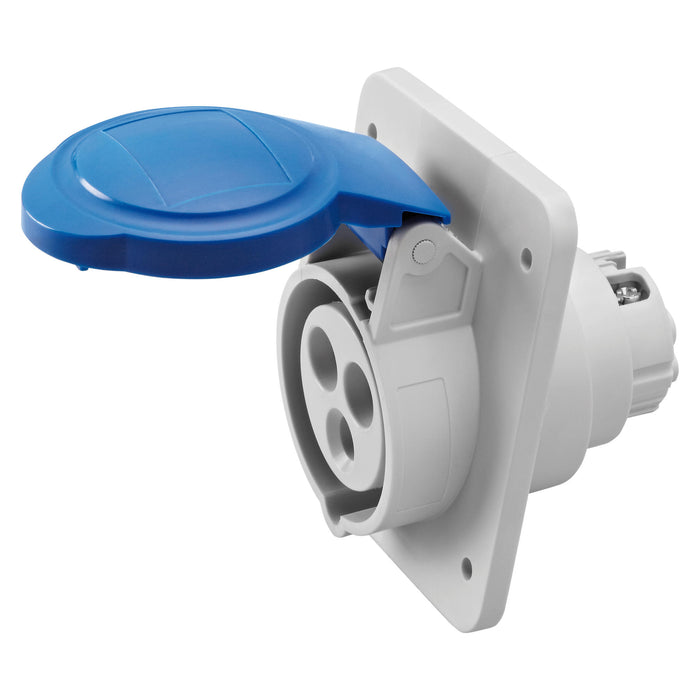 Industrial female socket 32Amp 3Pin - GW62216H
Original price
1.000 OMR
-
Original price
1.000 OMR
10° ANGLED FLUSH-MOUNTING SOCKET-OUTLET HP - IP44/IP54 - 2P+E 32A 200-250V 50/60HZ - BLUE - 6H - SCREW WIRING
 IEC 309 HP: range of plugs and socket-outlets compliant with international Standards IEC 60309-1 and IEC
60309-2, assimilated at European level as EN 60309-1 and EN 60309-2. This range expands the GEWISS
assortment of mobile plugs, mobile and recessed sockets for currents from 16 to 125A with IP44 / IP54
protection ratings and ratings up to IP66 / IP67 / IP68 / IP69 to ensure total protection in all possible
applications. The technopolymers and thickness used for the parts made of insulating material guarantee an
elevated degree of mechanical and chemical agent resistance. All the sleeves and pins of the IEC 309 HP
socket-outlets and plugs are surface-treated with nickel-plating to ensure full protection against corrosion,
oxidation and abrasion. All the external metallic elements of the IEC 309 HP plugs and socket-outlets are
made of stainless steel (the threaded metallic inserts for the body-grip coupling of the 63-125A versions are
made of brass).