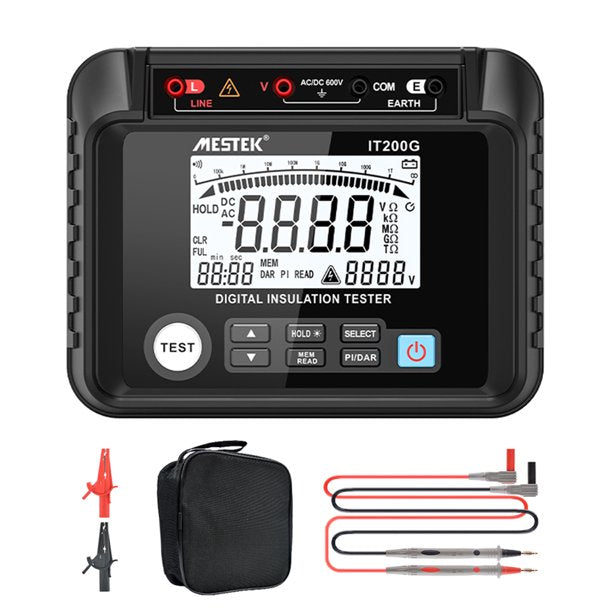 Insulation Resistance Tester Digital Meter Resistance Voltage Polarization Index DAR Measuring Meter LCD Display with Backlight
Original price
115.000 OMR
-
Original price
115.000 OMR
115.000 OMR
-
115.000 OMR
Current price
115.000 OMR
This insulation resistance tester has powerful functions such as AC/direct current voltage measurement, insulation resistance measurement, data retention, polarization index (PI), absorption ratio (DAR). This tool can be widely used for measuring , motors, cables and so on. If you are looking for this product, come and have a try!

Features:
Preferred Mateiral: The cover is made of ABS insulation material, shockproof and can provide a long service time.
LCD screen with backlight design, you can press the button to turn on or turn off the backlight according to your needs, so you can see the testing data clear even at night.
100 Group Data Storage: After  measuring the insulation resistance value, press HOLD button to keep the data first, and the screen will appear "HOLD" , and then press READ button to save the data.
Absorption Ratio (DAR): Determine whether the equipment is affected by the dampness of the insulation resistance measurement Instrument programming defaults for calculating DAR with insulation resistance values at 15 seconds and 60 seconds.
Polarization Index (PI): PI measurement is used to identify the aging of insulation quality. The insulation resistance value at 1 and 10 minutes is used to calculate PI.
Wide Applications: This tool is suitable for measuring insulation resistance of , motors, cables, switches, electrical appliances and other electrical equipment and insulation materials. Suitable for various electrical equipment maintenance, repairs, test and verification.

Specifications:
Material: ABS
Type: 1000V-20GΩ, 2500V-200GΩ (optional)
1000V-20GΩ:
50V/100V: 0.1MΩ~200MΩ
250 V: 0.4MΩ~20GΩ
500V: 1MΩ~20GΩ
1000V: 2MΩ~20GΩ
2500V-200GΩ:
250 V: 2MΩ~20GΩ
500V/1000V: 1MΩ~20GΩ
2000V: 3MΩ~200GΩ
2500V: 5MΩ~200GΩ
Voltage measurement: 10-600V
DAR: √
PI: √
Auto ranges: √
Auto shut-down: √
Data retention: √
Low voltage alert: √
Test voltage display: √
High voltage indication: √
Measure time display: √
Power: 8 * AA batteries (NOT included)
Package size: 210 * 200 * 90mm / 8.3 * 7.9 * 3.5in
Package weight: 1100g / 2.4lb