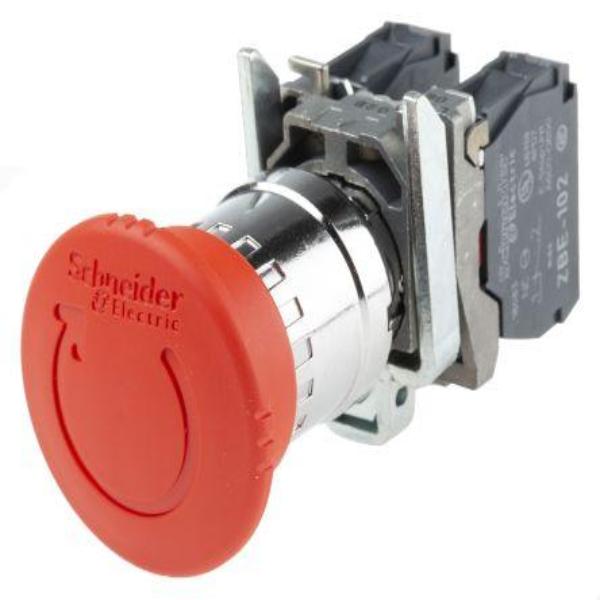 Schneider Mushroom Head Emergency Push Button
Original price
8.500 OMR
-
Original price
8.500 OMR
Harmony XB4 Emergency Stop Push Buttons The Harmony XB4 range is designed for industry to eliminate complexity of setup. Their flexibility and a robust construction has proven to be the first choice for customers around the world. An ingenious locking system consisting of a snap-fit head and body, tightened with a single screw, ensures easy yet secure mounting. 
Schneider range of the Harmony XB4 stop push buttons eliminates the complicated decision of which button you need for the desired application and which standard it must confirm to. The range comply with the two key standards IEC 60204 and ISO 13850. 
The Harmony XB4 range offers a metal series of emergency stop push button complete units with a range of push button diameters and operating types. 
They can be used in the following industries: machine manufacturers (automotive, textiles, timber), control system panel builders, but also in energy distribution panel builders, public works, building or airports. 
The XB4BS8444 is a single-pole single-throw (SPST) NC Emergency Stop Switching with slow-break standard silver alloy (Ag/Ni) contacts. The material is chromium plated metal, therefore there are no specific recycling operations for this item. Class of protection against electric shock for this item is class 1, confirming to IEC (The International Electrotechnical Commission) 60536.
Features and Benefits
•This is a complete metal emergency stop push button unit •There is a contractual warranty period 18 months 
•The NEMA rating for this item is 4X, which means it is a subset of the NEMA 4 rating (protected against dust), but must provide additional protection against corrosion. Only enclosures fabricated from corrosion-resistant material, such as stainless steel and aluminium, can qualify for the NEMA 4X rating 
•The IP66 rating for this article is rated as ''dust tight'' and protects against heavy seas or powerful jets of water 
•Resistance to high pressure washer is 7000000 Pa at 55 °C, distance: 0.1 m